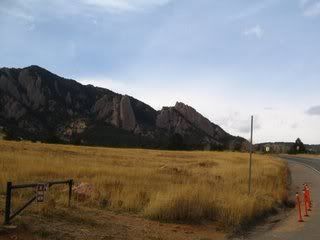 I cannot think of a better way to get out of the office! Join us  at noon for a quick bike ride of  20 minutes up hill to NCAR. Get the heart pumping, the breathing deep and those thighs burning. Sounds like a blast doesn't it? Well the reality is that the scenery is what will take your breath away. You feel like your climbing right up into those Flatirons. The distance is fairly short and you can tolerate a little pain because you know when you get to the top it's all downhill and the biggest worry is going to fast and getting a speeding ticket.
Riding in December! Come join us each Wed. (weather permitting) at noon and experience all the gusto for yourself.
Check calender for details.